Review: Aftershokz 'Air' Bone Conduction Headphones
Posted on
I have burst my left eardrum twice in my life. As a result I have lost about 20% of my hearing on that side, with most of the loss in the high end. Normally, this isn't too great a concern and I have a hearing aid to make up the difference. I do, however, notice the loss when I'm listening to music, podcasts and audiobooks on normal in ear headphones, especially when different instruments and voices are panned to the left and right.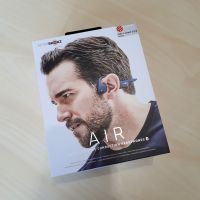 It was my audiologist who first told me about bone conduction headphones. He pointed out that they are an option for anyone with conductive hearing loss as they bypass the outer ear entirely (in my case, my perforated ear drum), instead feeding the sounds directly to your inner ear through physical vibrations on the jawbone
After much deliberation, I have recently bought the Aftershokz 'Air' bone conduction headphones in Midnight Blue, which are currently priced at £99.95. This is not cheap, and I had high expectations. Now that I've spent a week with the headphones, have they met these expectations? Yes and no.